There is nothing more distracting – or unsanitary – than a messy office space. Indeed, according to a study done by the Princeton Neuroscience Institute, multiple stimuli present in the visual field – i.e. cluttered documents spread haphazardly across desks, half-drunk coffee mugs littered throughout and dusty computer screens distracts us and makes it difficult to focus on the task at hand. As they say, "clear space = a clear mind."
There are a multitude of reasons to make your office space tidy and organized, not only because a clean work environment promotes productivity and a clear headspace, making your employees much more productive, but also because a spotless office space reflects the professionalism of your company. You want to make a good impression on your stakeholders, potential clients, and investors, and a clean commercial property is a great way to communicate your company values.
Cleaning commercial spaces is markedly different from cleaning residential spaces such as a home or hotel room. Hiring a professional to clean a commercial space can be more cost effective and thorough, as commercial cleaners cover deeper cleaning jobs where power washing, tile and grout cleaning, or upholstery cleaning may be needed and require strong chemicals and specialized equipment.
Hiring a professional service also eliminates the hassle of burdening your own staff with janitorial tasks, and cleaning services are highly flexible with accommodating your work schedule. For one time cleans, services typically commence at night, ensuring that the cleaning service will not get in the way of your office staff during the day.
It can also be beneficial to hire trained professional staff to clean your office space because your own staff may have severe allergens that could be triggered while dusting, mopping, and cleaning that professionals are prepared to deal with.
Employees can easily spread bacteria, mold spores, and mites in less than sanitary office buildings, because surfaces like door handles and desk spaces that are often shared and touched by everyone can quickly spread. This can result not only in the compromised health of your workers, but also potentially even decreased productivity as more of your staff takes necessary sick days.
Additionally, with the combined expertise of each service technician and nearly 40 years of cleaning experience, commercial cleaning services like BSM offer a specialized professionalism that ensures an efficient and top-notch quality cleaning job that ensures (if you are requesting a one-time cleaning) you won't have to waste resources and time by cleaning your space twice.
Janitorial Versus One Time Cleans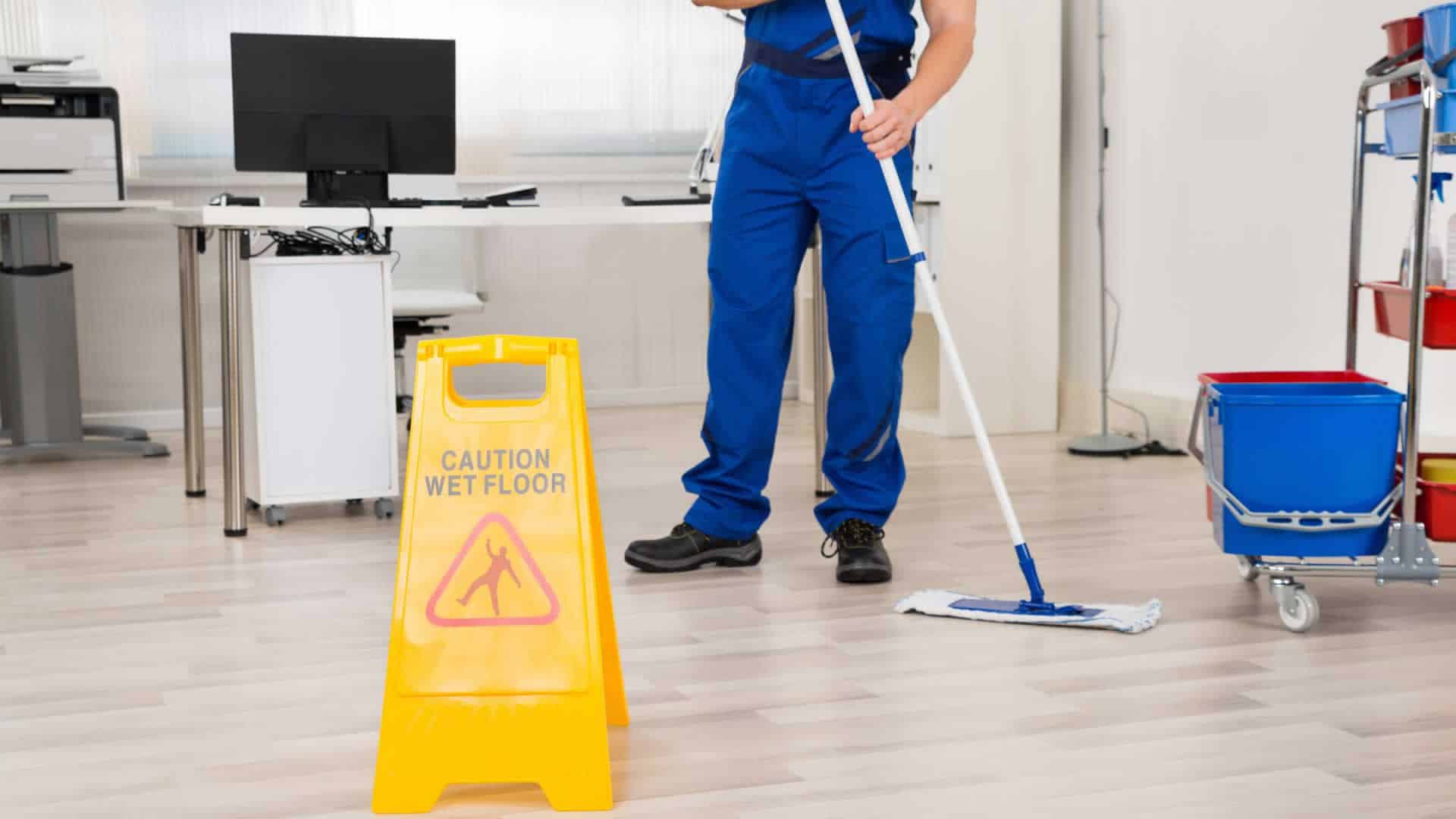 If your space requires acids and solvents to remove stubborn dirt from walls, hiring commercial services may be the way to go. Additionally, unlike residential cleaning, professional cleaners go about cleaning in a highly systematic, specialized way – often professional services have specific teams devoted to specialized tasks to ensure the most thorough and efficient cleaning jobs possible.
Within commercial janitorial services, you can request weekly or monthly routine cleaning services in order to keep your space regularly clean, or request a semi-annual or one-time service to prepare for a company event to accomplish more heavy-duty tasks, such as stripping floor finishes or scrubbing heavily soiled carpeting and upholstery.
Or perhaps your office suite, business park, lab, or industrial warehouse hasn't been cleaned in many months, and you need a one-time deep cleaning. If that's the case, a one-time clean may be the best option for you.
However, if you have a much larger office building that needs routine cleaning in order to stay spotless and professional, you may require more frequent janitorial services.
What Should I Expect from a Professional Cleaning of my Office?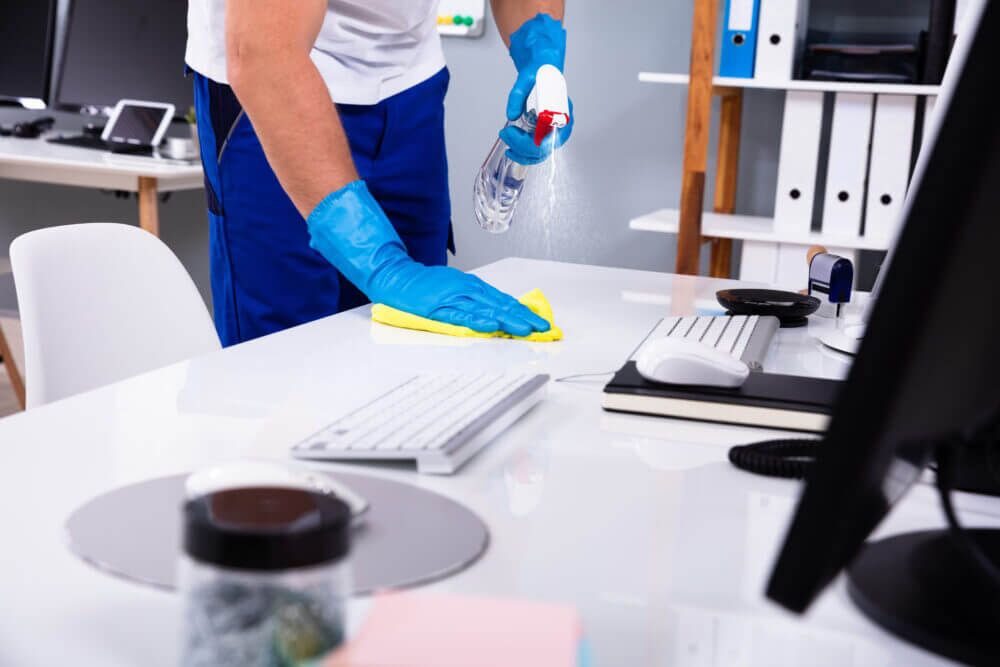 Before the professional service will get to work, it's standard practice for a commercial cleaning service to ask all employees to clean up and tidy any loose papers in the workstations and attempt to declutter to prepare the space for deep cleaning.
For more regular, daily cleanings, cleaning services will typically begin with picking up stray debris and discarding them, emptying trash cans and replacing them with clean new bags. Daily day porter services can also be very helpful for spaces that require daily maintenance. Day porters are highly trained in trash removal and restroom cleaning services, ensuring that cobwebs, window streaks, and dust does not build up and employ other disinfection services to maintain a tidy office space.
In order to get rid of any dust or dirt that could not be removed by hand, companies will go in with vacuums. Dust is one of the most inconspicuous forms of untidiness and poses one of the largest threats to health – it can very negatively impact those of your employees who breathe it in regularly or have allergies and should be kept under control with continuous wet wipe downs. Window sills and any glass areas will be wiped to eliminate fingerprints.
Important Technological Equipment
Professional services will also take great pains to clean equipment and important hardware, such as computers, using dusters to blast dust out of tight spaces where it settles in computer fans, vents, and keyboard keys.
It's a no-brainer that a clean bathroom is essential to the health and safety of your office space. A clean bathroom also makes a great impression on guests, clients, and important stakeholders, and if you cannot afford to get any other rooms cleaned, the bathroom should be your number one priority.
You can expect your hired cleaning company to completely disinfect your restrooms, wiping any surfaces clean with disinfectant because restrooms are high traffic areas and prone to incubating bacteria. Toilets will be deodorized with odor-reducing cakes to maintain freshness.
Toilet paper, paper towels, and hand soaps will be restocked and mirrors will be wiped down, and particularly high traffic surfaces like hand dryers and faucets will be sanitized. Trash cans will be disinfected as needed, emptied, and replaced with fresh bags for use.
Break Rooms and Kitchen Areas
A sanitized and spotless break room is key for any professional office space – it's where your employees go to fraternize, eat lunch, and the health and safety of your staff should be your number one priority. A clean break room and kitchen is key to maintaining a clean office space and is crucial for limiting the spread of germs.
You should expect professionals to mop down floors with proper disinfectant chemicals, sanitization of all sinks, and thorough wipe downs of all microwaves, fridges and counter tops to prevent food contamination. Even if no food preparation is commencing in your breakroom, it is still important to maintain a clean space to prevent bacteria buildup and ensure food safety for your staff.
Carpet and Floor Cleaning
Carpets typically need to be cleaned at least annually, and ideally biannually in order to prevent spots and traffic lanes to ensure your workplace environment is constantly looking spotless and clean. In fact, carpets trap significant bacteria, germs, and dust, and unattended grime or stains in your carpet can settle deep into fibers making it nearly impossible to remove.
You can request carpet cleaning to remove stubborn stains and soil and prevent the need to replace your carpet from your professionally hired cleaning service.
You can also request hard surface floor maintenance and polishing if your office space has hardwood floors instead. Polishing is relatively inexpensive compared to refinishing, and can be a great way to spruce up your older hardwood floors and restore their original shine.
Every workplace is unique, so you may require additional services not listed here. Generally, this article covers what will typically be included in a professional cleaning service, however, it is a great idea to give your janitorial service a walk-thru tour of your office space in order to alert them of any specific concerns or requests you may require.
Follow us on LinkedIn