Taking pride in your business' outward appearance is of the utmost importance when you are trying to make a good impression on your clients and potential customers. Your lawn is one of the most visible aspects of your commercial property's outward appearance. An unkempt, weed-stricken lawn reflects badly on your company's own professionalism because it communicates to potential customers that you don't care about keeping a well-maintained commercial space. How are they to know you will treat their patronage with care and respect?
A well-manicured lawn can be one of the most important components of a great-looking property. However, keeping a lawn well-mowed and landscaped requires a high level of commitment that you or your staff may not be able to provide. Hiring a professional to take care of your commercial lawn care can be a great option for you to not only save money, time, labor, and professionals will ensure that your lawn is kept orderly on a regular and prompt schedule.
Here are some reasons why you should hire a professional lawn care company for your commercial property today!
Professional lawn service staff knows exactly what your lawn needs to flourish and thrive. Improper lawn care can actually cause tremendous harm to your commercial property's lawn. If you mow your lawn too often, it can burn. If you mow it too infrequently, it can become overgrown. Overwatering, underwatering, or using the wrong chemicals can lead to patchy, unhealthy grass that will scare away new customers from your commercial property.
Using the wrong fertilizer or chemicals can kill your lawn. Moreover, a professional with years of expertise will know exactly what treatments to use for your lawn to prevent overgrown weeds or bare patches.
Additionally, when it comes to commercial lawn services, professionals have access to the proper tools and equipment to ensure that your lawn is getting the natural, safe, and professional treatment it deserves. A professional may have years of experience under their belt that allows them to diagnose problems with your lawn and apply the appropriate treatment, saving you the labor and costs of the trial and error you may have to undergo if you were trying to care for your lawn yourself.
Trained and experienced crews will know how to keep up with industry standards and maintain your lawn according to climate changes. Professionals have knowledge of soil type, rainfall, which types of plants would work best in your outdoor area and other granular considerations that only come with years of expertise.
Commercial properties — due to their larger scale — especially require professional grade equipment, and professionals will help you save on the hundreds and thousands of dollars your company would personally have to shell out in order to conduct soil pH level tests and analysis, purchase the latest tools, seeds, or conduct necessary aerating watering, and fertilizing.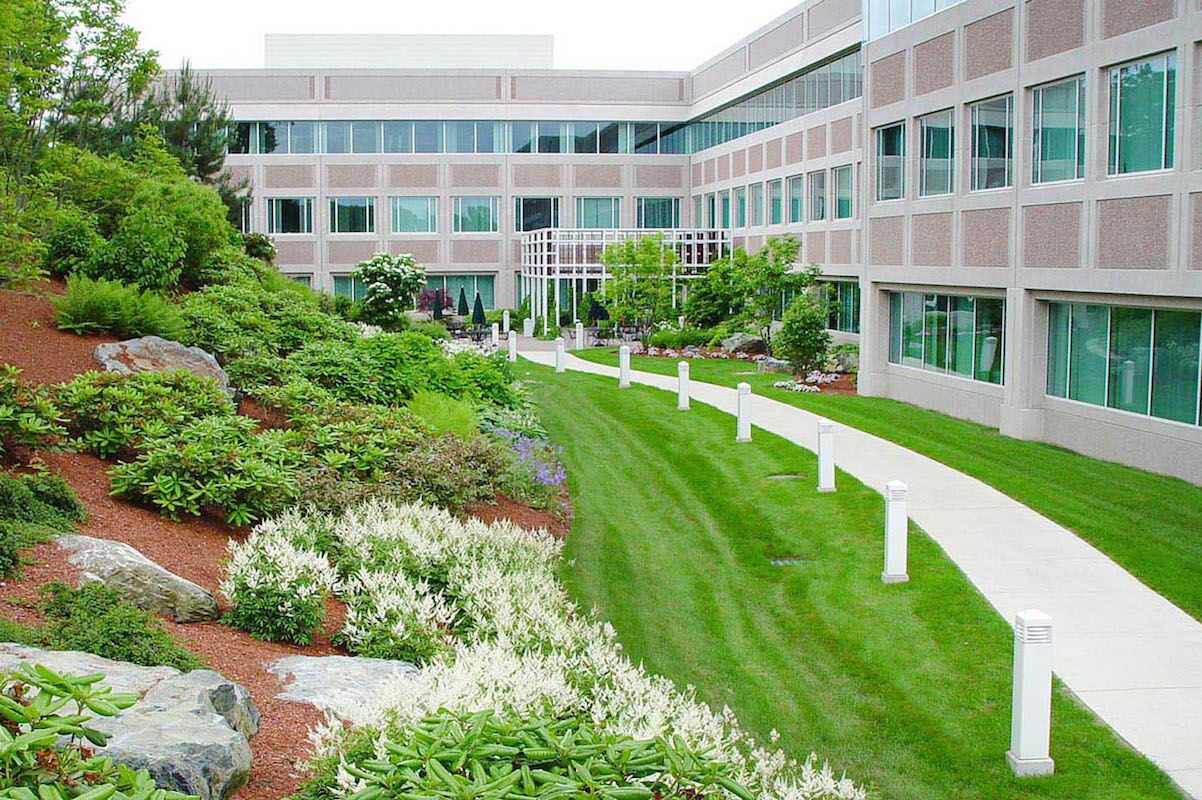 Indeed, mowing grass at the proper height, applying fertilizer at the optimal seasonal time, and other lawn maintenance details that only experts know can keep your lawn from looking dried or overgrown, and in fact, help it thrive! They can adjust their services specific to your lawn's needs, and make recommendations based on their expertise. The longer grasses are kept, the more time they have to undergo photosynthesis, resulting in healthier growing grass from more surface area.
Improper lawn maintenance can lead to lawn damage that can be extremely costly for your business. While it can be tempting to do the lawn maintenance and groundskeeping yourself in order to cut costs, you can do some serious damage to your commercial property as an amateur that will be even more expensive to repair.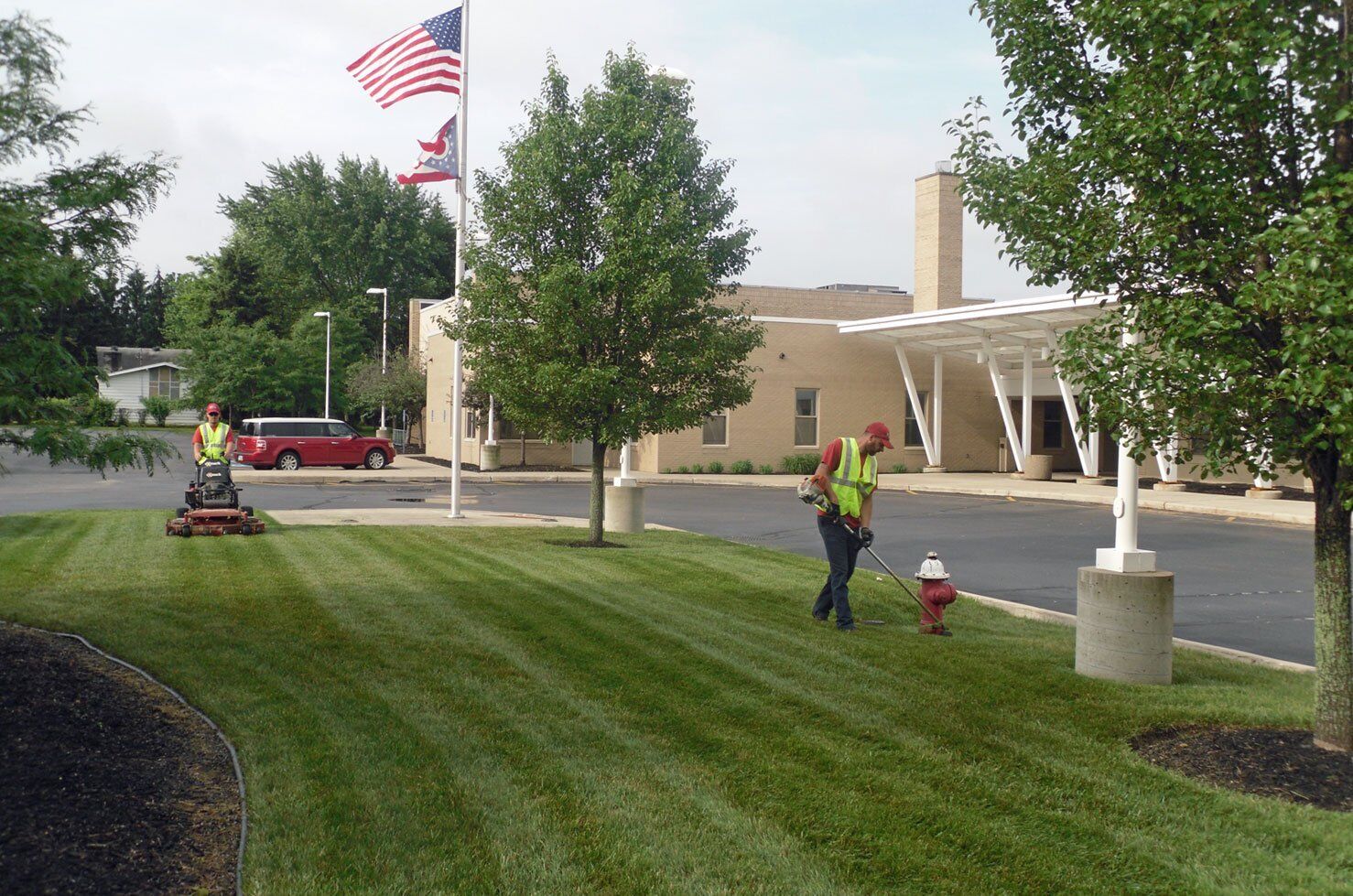 Hiring a professional to take care of your commercial space's lawn will ensure that your property's lawn is kept manicured and trimmed on a regular basis. This leaves you time to look after your customers and tend to other regular business proceedings. Your lawn requires regular mowing, fertilizing, aeration, top dressing, weeding, and watering to keep it looking healthy and lush.
This can easily amount to hours a month of your own time caring for your lawn, eating into quality business hours that you or your staff could use running your business. It can be especially time-consuming and arduous if your commercial property has a lawn of a particularly large scale that requires not only lawn mowing, but seeding services, tending to floral displays, or other specific treatments such as sodding or mulching to improve its appearance.
You may think that hiring a lawn maintenance contractor for your commercial property will be expensive. You may be thinking: Why pay for it when I can do it myself? Although hiring lawn services has up front costs, the marginal costs of maintaining your commercial property's lawn yourself are far higher.
You will not have to purchase costly equipment, such as a commercial-grade lawn mower, edging equipment, pruning shears, and various expensive chemicals and treatments professionals use to keep lawns looking healthy and green over time.
Buying fertilizers over the counter at retail prices can also be extremely costly. Professionals buy their equipment and materials in bulk, and save you these costs by charging you primarily for their expertise and labor.
Safety and Liability Concerns
Lawn equipment can be highly dangerous, and improper usage of professional-grade equipment can lead to serious injuries. That is why it may be in your best interest to leave the operation of commercial lawn-care equipment to the professionals, and avoid pulled muscles, sunburns, and other potential dangers from outdoor care. Failing machine oils or chemical spills can even result in fatal potentially injuries.
Damages incurred from improper lawn maintenance can also be a very high risk and extremely costly if your company has to shoulder the burden. The best lawn services often have insurance and licenses that shield you from paying if something goes awry and property is damaged in the process of maintenance. Always make sure that your contractor is a licensed professional.
Research has shown that a healthy, good-looking lawn can significantly increase your commercial property's value. According to a study done by the National Association of Realtors, lawns are the #1 most lucrative landscaping endeavor, returning about 267% of the investment!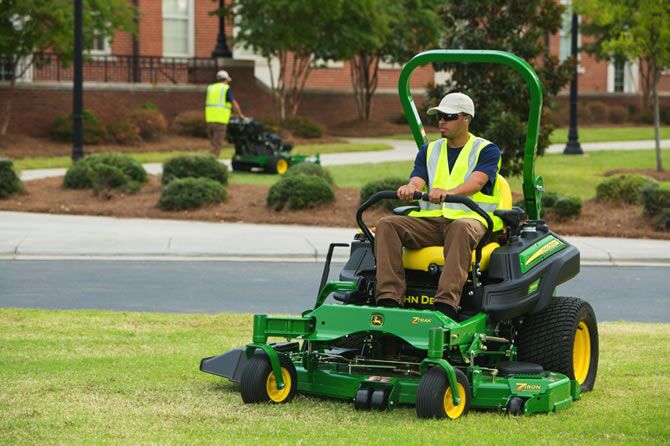 If you are sustainably minded, you can hire professional contractors who are committed to environmentally-friendly commercial lawn care practices and use green materials. Nowadays, with sound environmental practices becoming one of the top priorities customers look for in contractors, in order to remain competitive, professionals must ensure that they are reducing their carbon footprint and sustaining green spaces with limited use of toxic chemicals and pesticides.
Maintaining a lush, green outdoor landscape has a profound impact on our environment, improving air quality by producing more oxygen. Healthy, dense lawns can also actually be a natural solution to combating soil erosion, as long grass blades can protect valuable topsoil from degradation. By hiring a professional, you can ensure that your lawn stays green and vital, and help save the planet while you're at it by prioritizing sustainable maintenance practices!
Whether you are looking to spruce up your property's appearance at a Homeowners Association, office building outdoor area, apartment building front lawn, restaurant, or any other commercial property, a lawn maintenance contractor can cater to your every need and ensure that your outdoor space is looking healthy, green, and professional. The money you invest into taking good care of your lawn will really show, dazzling your current tenants and clients and attracting potential customers to your business.
With over 30 years of experience in the field, BSM Inc. can serve all your lawn maintenance needs and help you take full advantage of what your commercial property's outward appearance can do for your company. Call or email us today to request more information.
Follow us on Facebook